Gentle Yoga, Chair Yoga, Yoga for Balance and Stability, and Yoga for a Healthy Back classes at Circle Yoga Cooperative are designed to be accessible to all types of students. In these classes, you'll find many variations on common yoga poses, and you'll work with plenty of yoga props, which are provided to help poses fit your body. If you're joining class virtually, we recommend that you have a chair handy—preferably, a chair that is light enough that you can reposition as needed. It's also helpful to position yourself near a wall, which we often use for support and feedback during class.
This accessible Chair Yoga class allows you the choice of practicing entirely in your chair or electing to practice some poses while standing, with the option of using the chair for support. The class will provide you with opportunities to improve your balance, flexibility, and mobility, as well as practice breathwork and short meditations. This class is perfect for those who have been cleared by medical professionals to exercise but want a gentler practice, have no yoga experience, or have practiced yoga but need poses adjusted to account for injuries and/or limited mobility.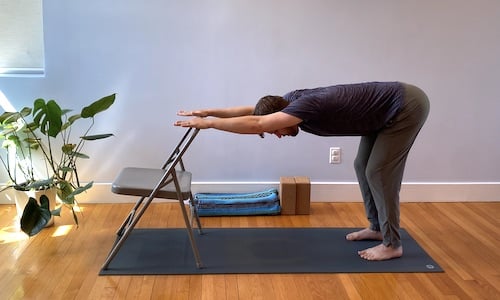 Yoga for Balance and Stability
Yoga for Balance and Stability is designed for students who are recovering from injury, working with limited mobility or special conditions, or looking for more supported ways to build strength and improve balance. Students practice yoga using a variety of props, typically including chairs, allowing them to experience the stretching and strengthening benefits of yoga regardless of their current physical condition. Students typically transition to the floor for the last part of the practice and for relaxation.
Gentle Yoga is designed for adults of any age, including seniors and those with minor physical ailments, who prefer a slower paced or more relaxed practice. Students practice beginning yoga postures and work on the principles of body alignment and breath awareness. Teachers provide lots of variations to ensure that poses are accessible for students with extra tight hips, cranky knees, or other minor limitations. Students of all levels are welcome, including those who are new to yoga.
Coping with back trouble—or trying to avoid it? Use breath and movement to build awareness, mobility, and strength to support the upper, middle, and lower back. This class is based in yoga, and we'll incorporate other techniques including myofascial release and strengthening / stretching with resistance bands. Resistance bands are available for use at the studio.