Circle Yoga offers one-on-one private yoga instruction for adults and children. Sessions can be scheduled at the studio, in your home, or via Zoom. Scheduling private sessions with the studio's talented teaching staff is a great way to meet individual needs if you/your child:
Are brand new to yoga and want to get started with one-on-one guidance before joining a group class.
Have a physical condition or special needs that require individualized attention.
Want to focus on a particular area of the body or develop skill with specific types of poses.
Are ready to develop a regular home practice and need help to create a plan.
Would just like to have an individualized consultation regarding your personal practice.
Private Session Fees
Adults — Adult private classes are generally scheduled in increments of 60, 75 or 90 minutes. On average, the fee for a 60-minute private session at the studio ranges from $100 to $120. Teachers set their own fees and schedules.
Children — Children's private sessions are typically 45 minutes long. On average, the fee for a 45-minute children's private session at the studio ranges from $90 to $110. Teachers set their own fees and schedules. One guardian must remain on premises during children's private sessions.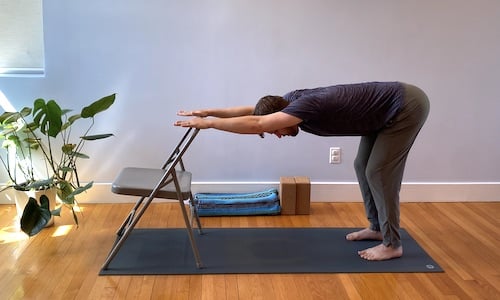 Yoga Therapy Sessions
In addition to regular private sessions, Circle Yoga offers yoga therapy, a healing modality that combines the tools of the yoga tradition — poses, breathwork, meditation, mindfulness, inquiry and philosophy — with an individualized approach. With the support of a yoga therapist, you will develop yoga-inspired practices that are evidence-informed and customized to meet your well-being goals. Yoga therapy offerings at Circle Yoga include one-on-one sessions and group yoga therapy workshops.
Private Session Cancellations
Please notify your teacher at least 24 hours in advance if you need to cancel a private session. Full payment is required if the cancellation is made less than 24 hours in advance.
Schedule a Private Session
If you have questions or you are ready to book a private yoga session, please complete the form below.